Who would have thought a niche product such as the Brompton's "little folding bike" with its pure quality craftsmanship by could make such an impact globally…with more than 80% of its bikes distributed to export markets around the world
So what have been the key drives for its success?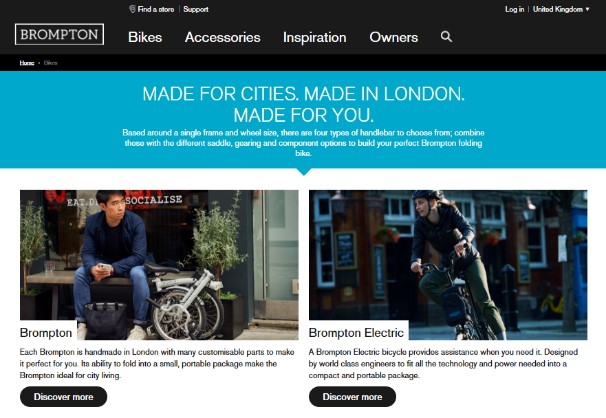 1. A global mindset across the business
"Just one per cent of the world's population lives in the UK," says Will Butler Adams, chief executive of Brompton Bikes, maker of the iconic folding bicycle.
"If you're not exporting you're not communicating with 99pc of the opportunity."
2. Craftmanship, highest quality and innovation is a priority. This small portable bike now also can be fitted with a small but powerful electric engine
3. Customer service levels exceeding expectations.
4. Flexibility when selecting routes to market. When Brompton opened in China it became clear that the smaller outlets were better equipped to meet the end users' needs and took the most care. Yes, it took more than 5 years to start making a profit in China but the patience is now paying off.
5. Communication and interaction across the whole supply chain. Brompton are open to offering exclusivities for a limited period to show they are supporting new distributors when they build up the markets.
6. Putting the end-users in the "saddle" and listen, learn and adapt – Of course customers can customise their bike as well as having a standard version. Demo bikes are available for all to try before you buy at the dealerships. On top of this Brompton have successfully linked the product to certain lifestyles – just look at the website where you can how they are made in London and lots of "Englishness" and you can become part of the Brompton community.
7. Do your homework and research – for Brompton, the market strategy is you "Sell to cities, not countries" – as the lifestyle, country infrastructure, average earnings etc will best determine market fit and the scope of the opportunity.
So, remember by being more innovative and enterprising with ones' export will help #growexport