In the heart of the business; there has to be a focus on breaking down barriers, developing an open culture, be able and agile. We call it the Export Enterprise Centre ('EEC').
The role and function of the Export Enterprise Centre is to develop the enterprising and innovative culture, capacity, capability of your business.
To keep on top of these important and fast-moving developments we suggest that you should use a balanced scorecard, an Export Enterprise Scorecard.
Optimum Export, the creators of the Export Enterprise concept have developed the Export Enteriprise Scorecard where you can
✓ Communicate what they are trying to accomplish
✓ Align the day-to-day work that everyone is doing with strategy
✓ Prioritise projects, products, and services
✓ Measure and monitor progress towards strategic targets
Optimum Export can help you build a bespoke scorecard for your business where you can set, track and achieve your key business strategies and objectives.
Once your Export Enterprise strategies are deployed and tracked through what we call the Four Legs of the Export Enterprise Scorecard.
These four legs are made up of four distinct business perspectives:
• Product lifecycle
• Consumer engagement
• NPD
• Channels and delivery
Introducing the Export Enterprise Scorecard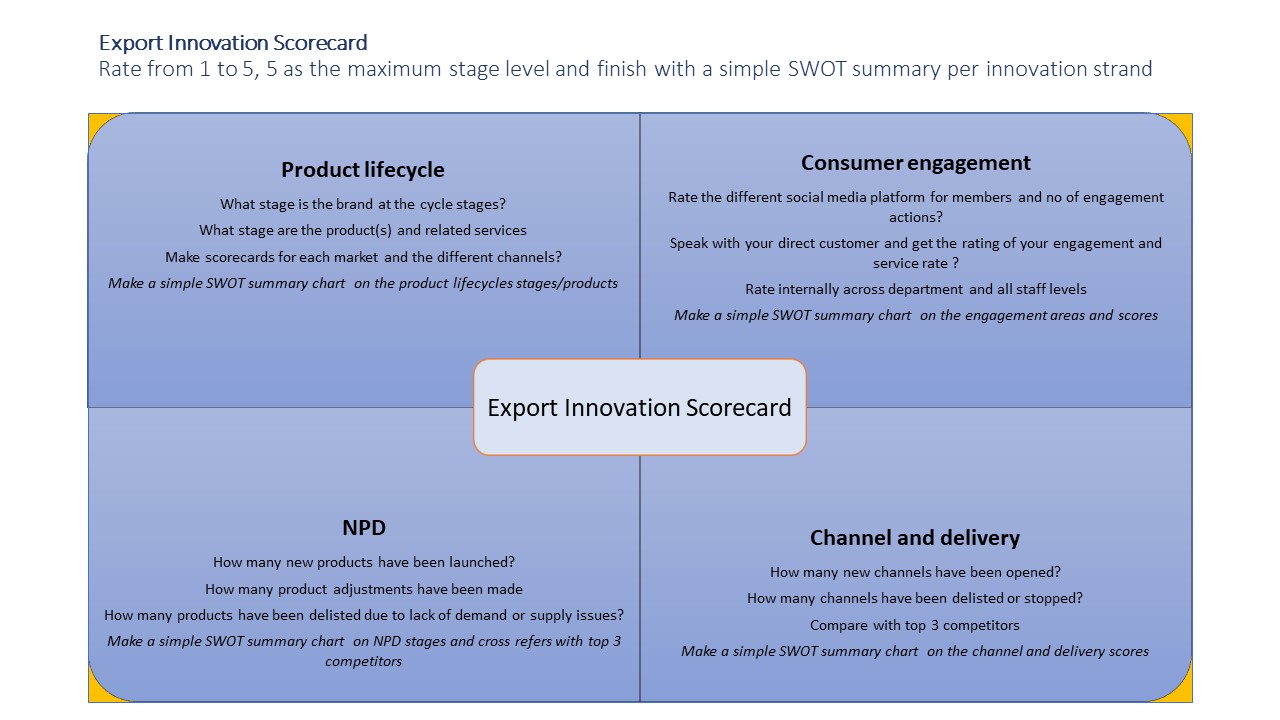 The upcoming blogs will highlight some great proven success stories for each of the 4 Export Enterprise Scorecard legs:
Monday 15.10.2018
Monday 22.10.2018
Monday 29.10.2018
Monday 05.11.2018
Would you like to read more about Export Enterprise and how to develop an enterprising and sustainable global business you can download the Export Enterprise E-book here