Announcing the campaign for positive export
Yes, these may be challenging times for international trade, with the threat of trade wars and the uncertainty arising from Brexit influencing the attitude and behaviour of many businesses.
But the danger is that one can almost talk oneself into a state of despondency and the decline almost becomes a self-fulfilling prophecy.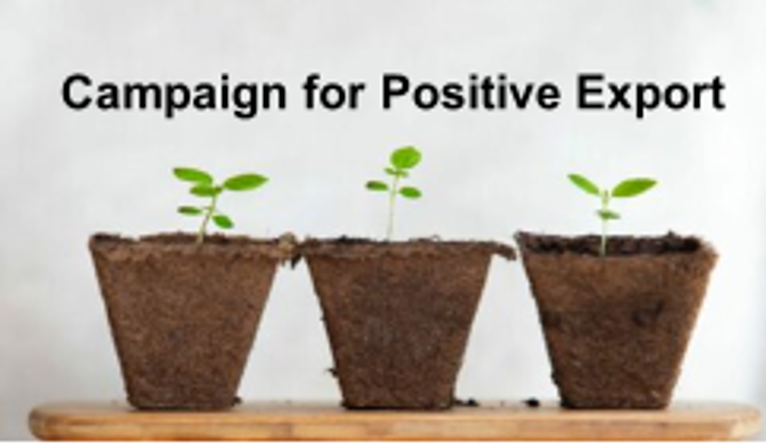 While I am not naive enough to believe that just be having a 'positive mental attitude' you can conquer the world, I do believe that that it is probably easier to be an exporter than ever before.
This is why I am proposing that businesses should focus on what they can do in terms of growing their export and, indeed, there is plenty that can be done.
So here are our seven points that you should consider as part of developing your own campaign for export:
1. The increasing diversity of our communities across the world make it easier to introduce new concepts, tastes and products.
If you haven't already done so, look at the places across the world the demographics are such that the potential for your products are highest. An example is that the two fastest growing markets for cricket bats are Germany and the USA, due to the growth in the number of people from the Indian sub-continent moving to those places.
2. Social media is making it easier and quicker to reach new users across the world
Social media influencers are often global phenomena and we are experiencing cases where a well-known Chinese acress is photographed walking in London with a specific bag resulting in 100s of similar bags being sold in China.
By having an authentic and local approach to your social media engagement you can maximize your impact.
3. Increasingly diverse and sophisticated distribution methods are making it easier and cheaper to get your products into the hands of your customer
The days of relying on getting your product listed in a major supermarket chain are long gone. Subscription models, home delivery and buying clubs are just some of the alternative distribution methods that are working for such diverse products ass razors and premium chocolate.
4. The growth of the "globals" is making it easier to reach a significant number of customers using English
English has for a while the main language for business, but with the growth in global television subscription services, such as Netflix we are seeing a strong growth in the number of younger people, mostly living in the big cities, who see themselves as citizens of the world.
5. Using live events, such as music and sports events to test the markets. You can also use pop-up shops
We are experiencing a global growth in the number and size of live events and festivals often combining music and sport with food and entertainment. So whether your target audience is 25-year old rock-lovers or 50-year classical music and fine wine enthusiasts, there is an event, somewhere, where you can test market your product.
6. YouTube, chat forums and other social media channels are making it easier to learn about a new market, from your desk
Even before you visit a market you can learn an awful lot about it by watching videos on Youtube from the country, reading newspapers and gossip-sites etc.to give you a whole picture of the place – I call it 'Google and Go'
7. Competitive airfares are making it easier and cheaper to visit your markets
I live near York in the north of England and I can fly to Amsterdam or Copenhagen cheaper than when I take the train to London.
Even with long-haul flights, the new breed of low-cost airlines have made it affordable to visit most markets and learn and stay in touch.
Yes, positive exporting is certainly possible, so let's get going.
If you need a hand, just get in touch #growexport